Passenger safety and comfort are paramount in the aerospace and aviation industry. Developing innovative sealing solutions for aircraft interiors is critical to achieving this goal. 
Silicone rubber is a reliable choice for aircraft parts, including interior seals and equipment gap-filling, where precision and safety are critical.
Silicone Engineering has been manufacturing and supplying specialised silicone products to the aerospace sector for over four decades, and it remains a leading company in the industry.
The opportunity and challenge:
An airline manufacturer recently approached Silicone Engineering to provide a sealing solution for the business class seating they were constructing for a commercial aircraft.
Our extensive aerospace experience was required to suggest a material that could act as a close-out seal for dust and vapour ingress in various parts of the first-row interior monument construction.
Additionally, the silicone material had to meet strict industry regulations and effectively seal the first-class seats to the aircraft side wall and ventilation ducts.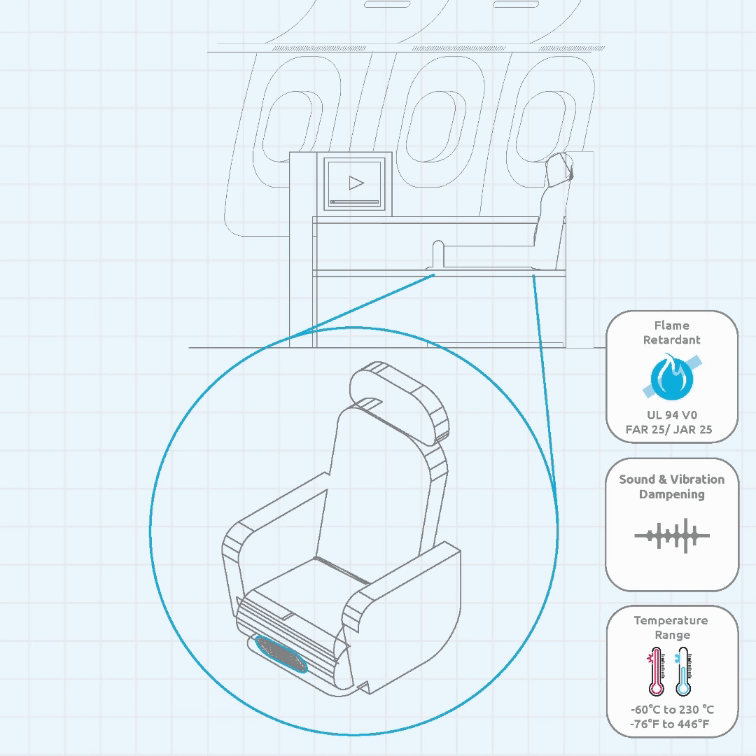 THE SOLUTION: expanSil™ FR 250 profile
The company provided design plans to create close-out seals for the first-row monument and aircraft side wall. Following this, our material engineers suggested using our closed-cell flame-resistant silicone sponge extrusion to a custom profile shape.
Our expanSil™ FR profile was perfect for sealing the gaps identified in first-class monument areas. The sponge profile's closed-cell structure increased vibration, sound dampening, and thermal management efficiency per seating unit as an added benefit.
After successful trials, the customer placed their first order and added the material to their supplier plan.
Click the links for more information on expanSil™ closed cell extrusions and silicone applications in Aerospace.
To learn about using silicone sponges for aerospace gap-filling, click here: gap-filling.
Download the case study as a PDF by clicking on the picture below.