What is silicone sponge cord?
Over the years, Silicone Engineering has developed new capabilities and extended the range of silicone sponge cord solutions, for a product suited to almost any application. With cord being available in almost all silicone formulations, Europe's leading silicone sponge cord manufacturer will provide you with the silicone solution you need.
Our specialised silicone sponge extrusion lines allow us to achieve excellent physical properties including extremely low water absorption (<1%) preventing water, and dust ingress. This is possible due to a uniformed closed cell structure.
The sponge cord has outstanding sealing properties due to its high compression force deflection (CFD), however we have the capabilities and material formulations to cater for low CFD if the application requires it.
Silicone Cord Applications
Silicone sponge and foam cord can be used in a wide range of applications due to its high temperature durability, variable densities and sizes. For example:
High temperature sealing
Door / oven seals
Packaging and food processing machinery seals
General sealing across industries
Silicone Sponge Cord Availability
2mm up to 50mm diameter
Densities from 200kg/m³ (soft) to 530 kg/m³ (firm)
Excellent Ozone, UV and weathering resistance
Closed Cell
Thermally stable over a wide range of temperatures (-60°C to 230°C)
Available in white, riox, grey and black (as standard)
| mm | inches |
| --- | --- |
| 2.0mm - 50mm | 0.079 - 1.969 |
| Dependant on grade (Above based on 250kg/m³ (10lb/ft³ ) | |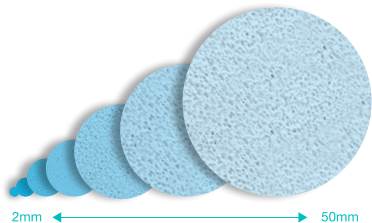 What are the benefits?
Silicone sponge cord can be produced in diameters ranging from 2mm to 50mm.
Cut to length and joined to form rings
Thermally stable over a wide range of temperatures (-60°C to 230°C)
Superior sealing properties in harsh environments