Let the Journey Begin….
1959 – Silicone Engineering Ltd was born! We were one of the first British pioneering companies dedicated to the processing of silicone rubber. Back then the company focus was silicone sponge extrusion.
1960 – A year later the company started extruding solid silicone to complement the sponge range
1973 – Cable and harnessing were introduced to our capabilities to offer insulated silicone cables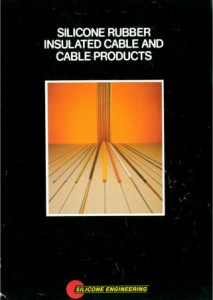 Cable Brochure
1975 – Bestobell Seals purchase Silicone Engineering to become a part of the Bestobell Group.
1976 – Solid and sponge sheeting produced using an extrusion method
1986 – Meggitt PLC purchase Bestobell Seals and thus in turn Silicone Engineering become part of a very big family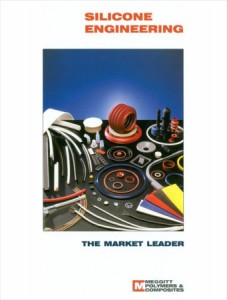 Silicone Engineering brochure under Meggitt PLC
1988 – Exciting times as we move into our new purpose built, 55,000 sq ft premises on Greenbank Business Park, where we reside today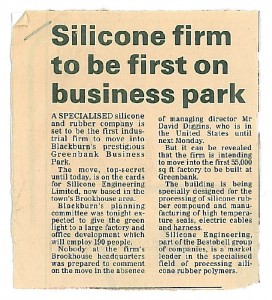 Local paper cut-out detailing our move
1990 – Our Low Smoke, Low Toxicity grade (LCH) was developed in response to the King Cross Rail disaster in 1988
1996 – We can now manufacture calendered sponge sheeting in a continuous method.
1998 – Two years later we start to calender solid sheeting in a continuous method.
2002 – Silicone Engineering is acquired from Meggitt PLC and becomes a Limited independently owned company for the first time since 1975!
2005 – Silicone Engineering Ltd undergo a management restructure and ownership change following a MBO by the current management team
2005 – We spread our wings to European pastures by opening our European office near Rennes in France
2009 – After 50 years of constant development we decided it was time to have a complete refresh with a shiny new brand image. Our grades kSil®, expanSil™, suraSil™, neutraSil™ and metectSil™ are born as you know them today!
2010 – 2020 – A decade that saw year-on-year growth, as the company explored new geographical markets such as North America. Growth in the solid and sponge sheeting product lines contributed to Silicone Engineering becoming one of the leading HCR silicone manufacturers in Europe.
2021 – Silicone Engineering were acquired by US materials giant, Rogers Corporation to become a part of the group.
Today – Silicone Engineering are much more than a silicone manufacturer. We pride ourselves on being a silicone solution provider who works closely with our customers to solve problems and design silicone solutions for today's applications.
Throughout our 60 years in the silicone rubber sector, Silicone Engineering has remained exclusively focused on silicone rubber innovations so our expertise and knowledge has not been diluted by any other elastomers; something that the company prides itself on. This focus is what drives innovative thinking into the material and the development of new formulations is what keeps us at the forefront of silicone technology.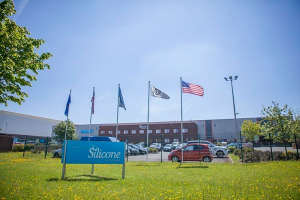 Silicone Engineering's 55,000 sq ft Facility