Discover the benefits of kSil® Silicone Sponge & Foam Sheeting
Silicone Engineering's kSil® sponge and foam sheeting provides the best quality in continuous rolls or sheets. Our silicone sponge sheeting is part of our silicone rubber sheeting range
With a range of thicknesses from 2.0mm to 12.5mm delivered in rolls or up to 45mm in sponge sheeting.
kSil® Sponge Sheeting Features
Up to 1000mm wide
Closed cell
Extremely low water absorption (<1%)
Excellent Ozone and UV resistance
Offered in densities ranging from 200 kg/m³ (super-soft) to 530 kg/m³ (Firm)
Available in white, riox and dark grey as standard
Thermally stable over a wide range of temperatures: -60°C to 230°C
Manufactured in a range of thicknesses from 2.0mm to 12.5mm in rolls, up to 45mm in sheets
Why Silicone Engineering?
We have been silicone sponge suppliers for over 60 years. Throughout this time, our vast knowledge and expertise in the material has allowed us to develop a range of grades, densities and thicknesses all manufactured on-site at our facility in Blackburn, UK. Whatever type of silicone foam sheet you require, Silicone Engineering is here to help.
Silicone Engineering's kSil® silicone sponge foam sheets range offers excellent compression properties when used to produce gaskets and seals, especially where the sealing surface is not smooth. With water absorption at <1%, kSil® sponge gives excellent sealing properties from water and dust ingress, therefore providing protection to the application.
Processed on calendered production lines and controlled by modern technologies such as re-roll and cross cutting units, the flatness and widths of the sponge sheeting stays consistent to give a high quality, smooth finish.
Silicone Sponge Manufacturer and Supplier
Being the only silicone sponge sheeting manufacturer in the UK, we are experts in calendered closed cell silicone sponge. Manufactured on state of the art processing lines, our kSil® silicone sponge brand is known across industries for providing excellent thermal insulation, physical performance and temperature resistance in many applications.
Available in a number of special grades, we can formulate our silicone sponge to suit your application(s).
What is the Difference Between Open & Closed Cell Foam (Sponge)?
Open Cell Foam (Sponge)
Open cell basically means that each cell, or if you like bubble, is openly connected to the next cell. These cells are not complete closures therefore water, moisture and dust can very readily make their way into the cell structure.
A good example of an open cell sponge is the type of sponge that is used to wash a car or wash the dishes at home. If you place the sponge in a bucket of water, you see the sponge soaking up lots of water which is then squeezed out again onto the car. The water is allowed to pass through each cell, therefore gets absorbed and held within the sponge.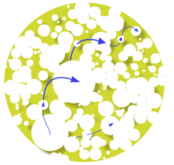 Closed Cell Foam (Sponge)
Closed cell sponge is what we manufacture and supply at Silicone Engineering. It has a much different cell structure to open cell. Each cell in a closed cell sponge is a complete closed sphere, trapping air within each cell. Unlike open cell, water, moisture and dust cannot readily enter the cell structure due to the lack of connectivity between the cells. Closed cell sponge is great for sealing when water and dust need to be kept out of an application as it has very low water absorption.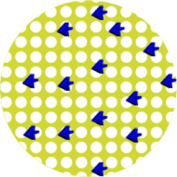 Where can Silicone Sponge Sheeting be used?
kSil® silicone sponge has excellent compression set and can perform at extreme temperatures. This makes it suitable for many applications such as
Seals
Gaskets
Insulation
Vibration Dampening
kSil­® silicone sponge comes in a range of densities from 150kg/m3 (super soft) up to 530kg/m3 (firm). Each density can be used for a range of applications depending on compression requirements.
Our silicone sponge is closed cell meaning it has extremely low water absorption. This allows the sponge to be used as gaskets and seals in many outdoor applications. For example gaskets for HVAC units, Lighting systems and Electrical Enclosures are just a few applications where minimal water ingress is vital.
What is Silicone Sponge Sheeting?
Silicone foam sheet is a closed cell elastomeric material that is designed for exceptionally reliable sealing, cushioning, vibration insulation and insullation.
Silicone sponge is resistant to environmental extremes from Ozone to UV rays and has an extremely wide temperature range from 230°C to -60°C making it the ideal sealing material in applications where environmental conditions are unstable or volatile.
What is the Difference Between Rubber and Silicone?
Rubber is essentially the original name given to Latex, a natural rubber harvested from the rubber tree. Latex was the first rubber-like material invented.
Silicone, although a rubber, is more suited to being classed as an elastomer or synthetic rubber, a man made polymer with elastic properties. This gives silicone a variety of benefits over more conventional elastomer such as:
Silicone's extreme temperature resistance from -60°C to 230°C means it outperforms the majority of other elastomers
Silicone has excellent environmental resistant properties meaning it can withstand Ozone, UV and Corona Damage along with general weathering from rain, wind, frost etc. Other rubbers become brittle and crack
Silicone is also a great insulator and is used in many thermal insulation applications to regulate temperatures.