What are silicone sponge/foam sections?
Choose from a vast selection of silicone sponge sections for virtually any application – extrusions from standard profiles to bespoke mould solutions, as Europe's leading silicone sponge manufacturer and supplier we can provide the ideal solution.
Silicone sponge rubber sections are available in square and rectangle forms, in a variety of sizes to suit a wide range of designs and applications, in diverse industries and markets.
Silicone Engineering has been extruding silicone sponge and foam sections for many years. By using the latest extrusion technologies, the specifications demanded by today's environment are always met keeping the tightest controls throughout the manufacturing process.
Availability
Densities from 200kg/m³ (soft) to 530 kg/m³ (firm)
A variety of speciality grades such as Flame Retardant and Low Toxicity.
Excellent Ozone,UV and Weathering resistance
Closed Cell
Thermally stable over a wide range of temperatures (-60°C to 230°C)
Available in white, riox, grey and black
| mm | inches |
| --- | --- |
| 2.0mm - 50mm | 0.079 - 1.969 |
| Dependant on grade (Above based on 250kg/m³ (10lb/ft³ ) | |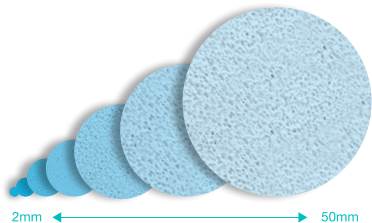 Silicone sections for wide variety of applications
Sections can be supplied in coils, cut lengths or fabricated into rings of various sizes using silicone extension joining equipment.
Silicone Engineering has been manufacturing extruded silicone profiles and sections for over 50 years.
Silicone sponge rectangle section
The rectangular sponge section can be produced from 2.5mm up to 40mm thickness and up to 100mm wide.
Applications include channel seals, where the section is located in a channel to provide a sealing surface.
Silicone sponge square section
Sponge silicone square sections can be produced from 2mm to 50mm square.
As with cords, they are often joined to form rings and used as gaskets fitted in channels to produce good sealing properties.