LED Recall Solution
A CASE STUDY
INDUSTRY: ELECTRONICS & LED Lighting
A long-established lighting and electronic enclosure manufacturer sought out Silicone Engineering to assist with a recent problem they were experiencing with a lighting unit.
The company, unfortunately, had to recall a number of their LED Lighting units due to systematic failure throughout a current iteration of a recent lighting unit.
THE OPPORTUNITY AND CHALLENGE: Product and administration support
During the recall phase, the company had been advised that the solid rubber gasket within the unit was releasing sulphur when the temperature increased. The knock-on effect led to the degradation of the silver contacts on the LEDs, leading to intermittent downtime and then to complete failure.
Due to the sizable cost of recalling the lighting units, the company understandably wanted to make sure the replacement material would work before investment and no adverse reactions would affect the units over its lifespan.
The company asked for the following requirements and information to be meet before they proceeded further with the project.
Requested RoHS and REACH compliance certification
Material Technical Datasheet of the proposed gasket material
Technical discussions with the senior materials technologist regarding the proposed material choice, and its viability to cope when in situ or a sustained duration.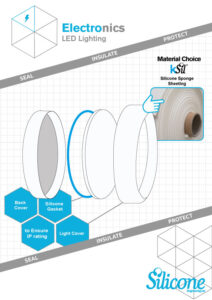 THE SOLUTION: kSil® GP Sponge Sheeting
Our sales team obliged the prospect's requests and provided the Rohs and REACH compliances documents, and also the material-technical datasheet.
Following a further investigation into the origin of the fault, our Senior Material Technologist advised the original gasket had Acetone (Acetoxy) present within the material and this could attack the phosphor in the LED, leading to intermittent downtime or complete failure.
The former gasket was manufactured via RTV (Room-Temperature-Vulcanizing) manufacturing method, in contrast, Silicone Engineering's silicone gasket produced would be happily placed within the unit without reaction, due to a completely different manufacturing method.
Our senior technologist spoke with the customer on a few occasions, reassuring their engineers with previous experience and test data, that the silicone gasket was the right choice for the LED lighting unit.