e-Bike Battery Seal
A CASE STUDY
INDUSTRY: Transit 
Batteries are an integral part of our modern lifestyle, from traditional applications such as mobile phones to cordless power tools, batteries have now advanced further to initiate the advent of electronic autonomous cars and renewable home energy systems.
As the battery industry develops, multiple industries and applications are reaping the benefits of the batteries advancements, one beneficiary of this change is the growing e-bike industry.
"The number of e-bikes and e-bike attachable batteries has greatly increased. Global sales of e-bikes are forecast to reach approximately 40 million units in 2023".
One catalyst to this growth has been the refinement of the Lithium-ion battery and Lithium polymer battery which is a subsection of the former. This new technology has longer battery life and faster-charging cycles which are amongst the elements that have helped propel the industry forward.
Now design engineers are looking to maintain this rapid development, sourcing the most dynamic materials to meet this demand. Recently Silicone Engineering had an exciting involvement in one such project inside this thriving industry.
THE OPPORTUNITY AND CHALLENGE: A seal for all weathers and ride conditions
Recently Silicone Engineering has helped develop a battery seal for an e-Bike application project.
From a design perspective, the material needed to be able to combat an array of weathering elements and not be fazed by UV resistance, rain, snow and sleet.
Our onsite material engineers assessed the enquiry and provided our commercial team with two material suggestions to relay to the prospective customer, with sealing solutions that would fulfil their design and build requirements.
The project was time sensitive due to a real emphasis on production costs. Our commercial team were able to provide swift information whilst production and marketing provided two sets of different sample grades and properties to help the project move forward.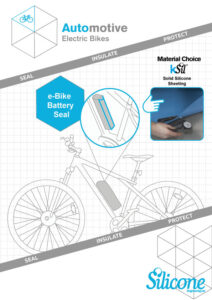 THE SOLUTION: kSil™ silicone solid sheeting
The company finalised its tests on the two selected materials and decided to go with one of our kSil solid sheeting materials for the e-Bike battery seal. To finalise their requirement we provided them with a colour sample to match the battery enclosure aesthetics.
The project is expected to grow year on year with global trends to less environmental impactful technology as a means of inner-city transit.