On March 23rd 2020, the UK went into a partial lockdown, to contain the spread of the Covid-19 virus. The British public was instructed to stay at home, as a key component manufacturer Silicone Engineering altered its processes to support in the effect against Covid-19.
A local engineering company contacted Silicone Engineering for help developing a face shield for NHS staff members who were directly treating Covid-19 patients.
The Problem: Fast, durable and clean.
The company needed to identify a strap to go around the back of the head to hold the face shield in place, and comfort strap.
The strap was required to be durable and flexible and to withstand repeated use. The company had previously used latex rubber but, silicone was preferred to natural rubber as contact with natural rubber latex may result in allergic reactions.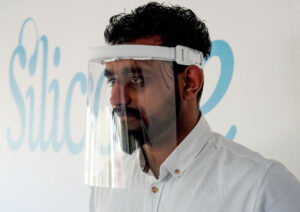 The Solution: kSil 60 2mm in White
The decision expedite all related Covid-19 applications greatly helped to create the Face Shield faster than was possible previously. Silicone Engineering arranged for the silicone solid sheets to be cut into strips via waterjet cutting.
Because of the locality of the engineering firm the kSil Solid Sheeting Strips were delivered to the engineering firm in a three day turn around.
Silicone Engineering continues to support in the effort against Covid-19 with silicone being used in many protective and medical applications.