Silicone Engineering, working with BSI has had the ISO 9001:2008 Quality Management continuous approval renewed for another 3 years.
October saw BSI auditors visit Silicone Engineering's premises in Blackburn, Lancashire to assess quality management processes throughout the business. After visiting all departments and assessing business operations, they granted Silicone Engineering the renewal of the ISO 9001:2008 status.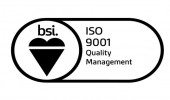 Steve Hadlington, Technical and Innovations Director said "To have our standard renewed is great news for the company. It shows the continuous improvements and investments we have made to our processes are having an impact and are improving the business and its objectives. This is reassuring for our customers, suppliers and all other levels of the supply chain."
"The focus going forward is planning for the new standard ISO9001:2015 which will be completed by 2018."
The renewal of the approval means the business has held ISO 9001 for over 20 years.
To find out more about Silicone Engineering's other accreditations and standards click here.