It has been another month of improvements within our Millroom as we install yet another Winkworth Z-Blade mixer.
Adding to the four Winkworth mixers already in place, the company made the decision to invest in a fifth due to increased demand seen through 2015 and also to increase the companies mixing capabilities.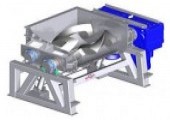 The new Winkworth is capable of mixing batches of up to 300 litres, making the processing of our silicone compounds more time efficient and reliable.
Steve Hadlington, Technical Director said "The new mixer provides us with added capabilities which will improve the effectiveness of the department along with improving internal and external customer service. It also shows the continuous investment the business is making to improve processing, which is then passed down the chain to ensure the high quality of our silicone products.
To find out more about our Mill Room and our mixing capabilities watch our video – Mill Room Video