Capacity on the UP!
The factory floor has been a hive of activity this month as the delivery and construction of our fifth calender went ahead.
The decision to install the new line was a simple one in order to enhance our capabilities for silicone sponge sheeting, one of the Silicone Engineering's core product lines.
The new line means our sponge sheeting capacity is enhanced by 50% on a single shift. It will also improve a number of other factors including:
Customer service
Response times
Capacity
Continuous rolls for kSil™ sponge
Contingency planning
Steve Hadlington, Technical and Innovations Director said of the new line: "The arrival of the calender enhances the long term strategic plan for Silicone Engineering, expanding the capability of the company to innovate new market materials, raising the expectation of the business as a whole."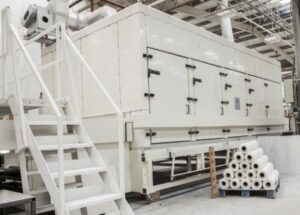 And it isn't just the sponge sheeting department that is seeing improvements. Downstream, improvements within the Mill Room are being drawn to a conclusion. Two fully operational Banbury lines for our solid product families and two large Z-Blade mixer lines for our sponge families have been installed. The Banbury lines and Z-Blade mixers will contribute further to the extra capacity being commissioned by the business.
Exciting news for 2015
Please watch this space for news on a new calender being commissioned in 2015. The operational and technical innovation team have plans for the new calendar processing line to be fully operational by the second quarter of 2015.