Design engineers play a critical role in developing electronic devices, particularly when it comes to ensuring that the devices are correctly sealed and weatherproofed to operate in extreme conditions.
The Opportunity & Challenge
A global security company specialising in developing and manufacturing surveillance equipment contacted Silicone Engineering to assist with producing a seal for vital components inside the new range of security cameras they were creating.
In this crucial design phase, they needed to source a material that could be used as an effective housing gasket seal to protect critical functions. An effective gasket was essential to seal around vital electronics, protecting them from moisture, dust, vibration, and other environmental factors. These conditions included; salt mist ingress in marine locations to harsh granular desert conditions.
Thermal management inside the camera was of concern to the design team due to state-of-the-art technology condensed inside; 4K, thermal sensor technology, and the latest processors generate heat as a by-product a long side their primary function.
The chosen gasket would also withstand fluctuating internal operating temperatures of 40°C to +75 °C. External extreme heat tolerance was the last criterion required for the housing gasket.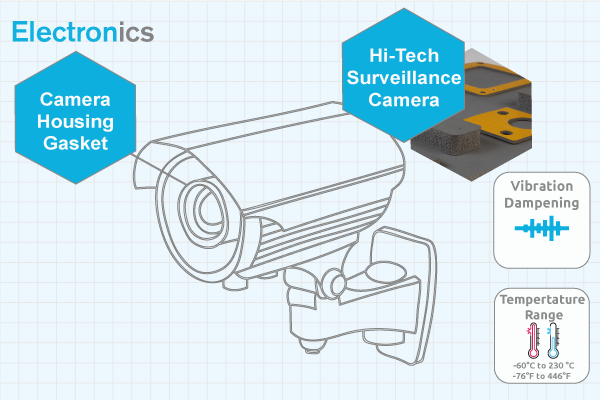 The solution: kSil® V-0 Soft (with pressure-sensitive adhesive on one side)
Considering the unique characteristics of the environments for the intended use, Our material engineer selected the closed-cell kSil® V-0 Soft as the material solution for this project.
Due to its versatile temperature range and excellent compression set, the customer's design engineers agreed to trail a sample of kSil® V-0 Soft sample with pressure-sensitive adhesive on one side.
Once the trial and prototyping phase had concluded, the customer was happy with kSil® V-0 Soft performance and moved ahead with the material due to its proficiency at withstanding the internal and external heat and weathering tests.
The closed-cell silicone housing gasket was signed off. The customer decided to scale up to total production, with the gasket being waterjet cut from the kSil® V-0 Soft sheeting.
For more product information click here.
And to download the case study click on the picture below.