Passenger safety is of the utmost importance when manufacturing and operating large sea vessels in shipping design and maintenance.
Watertight access doors are an essential safety component, with their primary task to prevent the ingress of water from one compartment to another during extreme weather, flooding or accidents.
The door's function is to limit the spread of water inside the vessel, acting as a safety barrier in harsh sea conditions where the risk of flooding is high, maintaining the ship's integrity in the worst-case scenario. These doors are used on-board in many ships, such as passageways underdeck and in engine room bulkheads leading to the shaft.
The opportunity & challenge
Silicone Engineering was contacted by a marine based company that had won a contract to refurbish a fleet of cargo ships. The company required new compression door seals, as the previous seals had been in place for over 30 years and had started to degrade, meaning that the compression was not effective.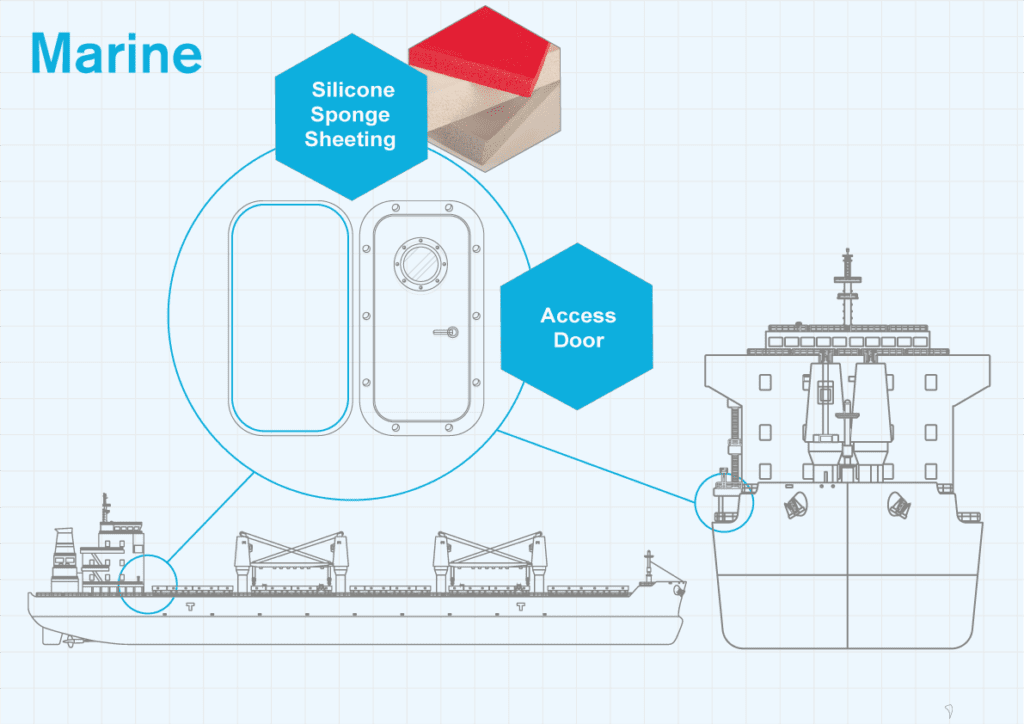 The solution: kSil® QR400 silicone sponge sheet
The enquiry was handled as a project and was passed to our innovations team to find a custom solution. Our innovations team discussed the best options and best production method to manufacture the seals for the access doors.
The team picked kSil®QR400 as the material of choice for the door seal application and suggested waterjet cutting the door seal from silicone sponge sheeting as one seal per door. This method would ensure the seal had more structural integrity than a seal composed of glued joins.
The closed-cell silicone seal would pass water submersion tests and could withstand water pressure from both sides. We supplied the door seals with a pressure-sensitive adhesive on one side, enabling easy installation into the access door channel onsite reducing labour time.