The UK railway system is the oldest in the world. The first locomotive-hauled public railway opened almost 200 years ago, in 1825. The UK has the 17th largest railway system in the world, and also the fifth busiest with a ridership in 2015/16 of 1.718 billion passengers. Such heavy usage puts the network under pressure and means that, in order to withstand the demand being placed upon them, the materials used on the trains need to be of the absolute highest quality.
Using silicone
Silicone is popular for use in both the interior and exterior of train carriages. In the interior silicone is used for HVAC gaskets, lighting seals, display gaskets, interior door seals and vibration dampening. On the exterior silicone is used for exterior door seals, exterior lighting gaskets and enclosure seals.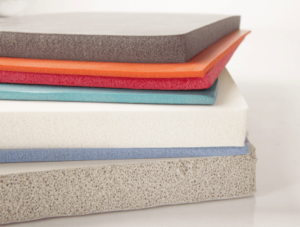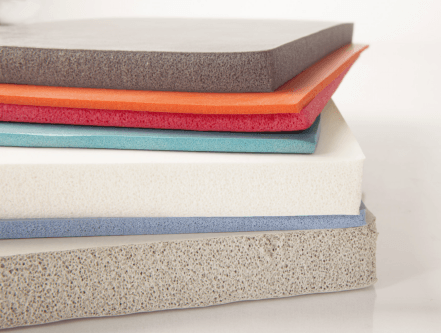 It's popular due to its flexibility in use, high temperature resistance, environmental resistance to UV and Ozone, excellent sealing capabilities and long lifespan which reduces the need for replacement over time which in turn improves efficiency.
For the rail industry
In our catalogue, you'll find a variety of silicone formulations ideal for use in the rail industry. Our newest and most versatile solution yet is kSilV-0, a lightweight, closed cell silicone sponge. This has been specifically designed for use in rail interior applications due to its flame-resistant properties. Meeting all the required rail safety standards such as EN45545-2, it's been specially formulated for use in the interior of a train carriage in door seals, electronic enclosures and LED gaskets – among other applications.
It's available in a wide range of thicknesses, from 2mm to 45mm, and in a variety of densities, from 150kg/m3 to 600kg/m3. kSilv-0 can be supplied in sheets, rolls and in a variety of extrusions from tubes to cords. Also available is a kSilV-0 solid silicone grade when additional strength is required, most commonly used where abrasion is a factor.
Safety compliant
On our trains, the need for ensuring passenger safety has never been more important which is why our materials meet the most stringent safety standards demanded by the rail industry. kSilV-0 has low smoke and low toxicity properties meaning it is compliant with European Fire Standard EN45545-2. Furthermore, it is flame resistant to UL94-V0.
Multi-purpose use
The beauty of silicone as a material for the rail industry is the diversity of use. Our unique formulations make it suitable for use either inside or outside of a rail carriage. In door seals, it's ideal because of its low compression set and dimensional stability. In HVAC seals and gaskets it's great to use as it can withstand heat fluctuations, and in LED lighting gaskets to protect them from water, dust and moisture while withstanding high temperatures often experienced with LED lighting. The closed-cell structure also makes it the ideal material to use for thermal insulation, vibration and shock dampening, improving passenger experience.
Contact us today
Silicone Engineering has been leading the way in silicone innovation since 1959. We work to the highest standards ensuring you are supplied with a product which is fabricated to your exacting standards, is contaminant free, highly stable and meticulously precise.
Our highly skilled workforce is ready to help you today, so contact us to find out more about the silicone solutions we can provide for the rail and mass transit industry.