Silicone Engineering is excited to announce that we have been presented with the Covid-19 supply chain certificate for its contribution towards the Ventilator Challenge UK.
Our kSil GP solid silicone gasket is used in the ES02 ventilator. The ES02 is the first ventilator to have received the final UK Government approval as the result of the Ventilator Challenge UK. This was achieved in collaboration with Airbus and F1, and a host of other elite UK manufacturers.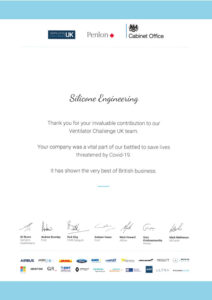 Dick Elsy, Chairman of VentilatorChallengeUK and CEO of High Value Manufacturing Catapult, stated:
"What VentilatorChallengeUK has achieved in the space of twelve weeks is nothing short of incredible, creating and producing an approved product and setting up production facilities on this scale would normally take years. I am immensely proud of the energy, determination and ingenuity shown by every business in responding to this national need.
Together, we have helped ensure the NHS has always had access to the number of ventilators it needs, and we're pleased to have also contributed to building a resilient stock should ventilators be required in the UK in the future.
This coalition of the very best of this country's people and capability across different sectors has truly showcased the strength of the manufacturing industry in the UK. While we have now delivered all the required ventilators to the NHS, the Consortium is looking to capture lessons learned and share them across the engineering community – and with Government – as key tools to help UK industry get back on its feet after the COVID19 pandemic has passed."
Chancellor of the Duchy of Lancaster Michael Gove, announced:
"The Ventilator Challenge has been a great success and I would like to thank every manufacturer and designer, and their incredible workforces, for the huge part they've played in the national effort to protect our NHS and save lives. In around three months, industry has stepped up to make 14,000 new machines to save lives on the NHS frontline and to help safeguard against any future outbreak.
The Ventilator Challenge has shown that UK manufacturing always rises to the challenge at a time of national need. Everyone involved is truly a hero of the coronavirus crisis."
For more information, click the BBC News and Guardian article links below.
https://www.bbc.com/news/business-52309294
https://www.theguardian.com/business/2020/apr/15/coronavirus-ventilator-uk-approval-nhs-penlon-regulator