Silicone Engineering at the Races!
Once again the world famous TT road race returned to the Isle of Man for another year of high speed, adrenaline fuelled, road racing.
After last year's successful debut TT, the Silicone Engineering Race Team were busy preparing for this year's event where they were looking to improve in both the bike and sidecar classifications. Over 60,000 people descended on the island to watch the very best riders tackle the 37.7 mile winding course that sees an elevation change of up to 1300ft*.
Lead rider Russ Mountford had a successful festival beating his previous average lap speed by 2 seconds, averaging a staggering 126.8mph around the course. Russ competed in the Superbike, Superstock and Classic TT classifications, finishing 14th, 16th and 16th.
Russ also competed in the 600cc classification where he was 5th in practise however, unfortunately an electrical problem on the bike caused him to pull out of both races whilst running in the top ten.
John Holden came 2nd and 3rd in the sidecar classifications achieving two podium finishes which was great news for the team.
Team manager, Paul Iddon said "We really upped the level in all aspects, both on and off the track in comparison to last year. Silicone Engineering's sponsorship and branding was really impressive this year with a bigger brand presence in the paddock, which we were all proud of. Russ and John exceeded expectations to really push the team on for the year ahead.
Both riders now look forward to the Southern 100 road race back on the Isle of Man in July.
We'd like to say a big congratulations to all the Silicone Engineering Racing team on another successful TT and good luck for the up and coming races, we'll look out for the Silicone Engineering logo zooming past!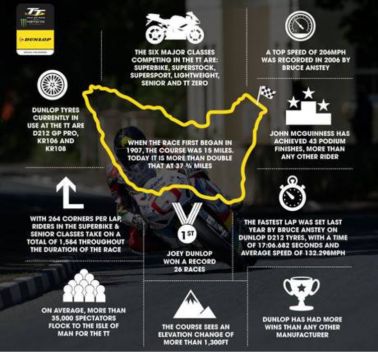 *Facts from Dunlop