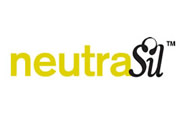 Suitable for use in a range of applications and environments, the amazing material, neutraSil™, is always completely safe when exposed to people both in public and industrial environments.
Ideal for industries such as healthcare, food and pharmaceuticals, neutraSil™ is highly efficient in the inhibition of bacterial growth.
Tony Peel, Managing Director at Silicone Engineering, said: "Over the past few years, the dangers of the hazards posed by strains of lethal bacteria have been widely publicised.
"The development of a highly effective anti-microbial silicone rubber was our reaction to the MRSA outbreaks that occurred throughout the US and the UK in 2005 and 2006.
"We conducted extensive research to develop and produce neutraSil™, leading to a breakthrough in technology."
neutraSil™ works by absorbing bacteria and microbes, breaking down cell walls and inhibiting their development.
The 'silver ions' present in neutraSil™ provide ongoing protection by preventing further contamination and colonisation on the surface of the silicone.
neutraSil™ has been independently proven to inhibit the growth and strains of MRSA, E.coli and Salmonella.
It has been tested to the Japanese Industrial Standard, which measures antibacterial activity in hydrophobic materials, and complies with the requirements of the U.S. Food and Drug Administration.