Silicone Engineering Celebrates 60th Anniversary
Silicone manufacturer Commemorates 60 Years in Blackburn England
Silicone Engineering is celebrating its 60th anniversary as a leading manufacturer of innovative, high-quality silicone products. One of the first companies in the world dedicated to manufacturing silicone rubber, the company was founded in 1959 and are now the largest silicone sheeting manufacturer and processor in Europe.
During the past 60 years, Silicone Engineering has built a tradition of excellence in providing its customers with a host of various silicone products for a variety of industries, including aerospace, automotive, rail and mass transit, military and HVAC systems and electronic applications. We continue to work closely with customers and vendors to help identify and develop silicone solutions to meet unique and demanding performance requirements.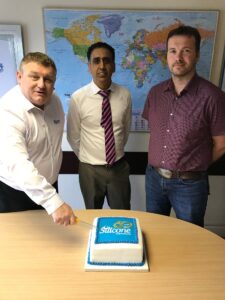 Left to right: Managing Director – Paul Kinsella, Operations Director – Mustaq Patel, Technical and Innovations Director – Steve Hadlington
Marketing Manager, Simon Holmes remarked: "The 60th Anniversary is another significant milestone for the Silicone Engineering. We've come a long way from when the company first started back in 1959 but our focus on silicone rubber innovation stays the same. The next decade looks very exciting and with continued investment being made in equipment, people and research, we're looking forward to the next chapter in Silicone Engineering's history."
Silicone Engineering is an ISO 9001 certified company, assuring consistent quality and rigorous attention to maintain high standards of performance. Based in Blackburn, Lancashire, England, with a 55,000 sq.ft premises, presently in 2019 currently has 150 employees.
We'd like to say a big thank you to all that have contributed throughout the years to get the company to where it stands today!
History