It has been an exciting week for Silicone Engineering Racing as the team have secured the signature of premier road racer Dean Harrison.
The race team have signed a two year contract with the Bradford rider to compete in the Isle of Man TT, International road events and selected BSB races.
Paul Iddon, Silicone Engineering Race Team Manager said of the signing "We're absolutely delighted to have Dean come on board and join us for the next two years. It is a massive opportunity for Silicone Engineering Racing to take the step to another level and push the team to new heights."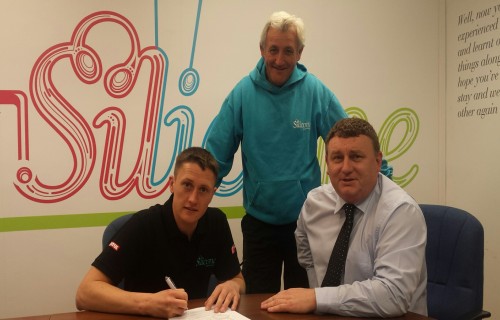 From Left – Dean Harrison, Paul Iddon (Race Team Manager) and Paul Kinsella (Silicone Engineering Managing Director)
"We're a relatively new team to road racing and with Dean's success and stature within the sport we can really grow our brand name and achieve big things in the next couple of years."
Dean has switched race teams from Mar-Train where he had a number of successes on the Yamaha bike however speaking to Dean about his decision to join Silicone Engineering; he was very impressed with the overall set up of the team and the direction in which they are heading.
Dean said "As soon as I met Paul and the rest of the team and saw the set-up from the bike preparation to the calibre of the other riders and their knowledge, I knew it was a great opportunity to join a team on the up.
"The flexibility of how the team is run was another plus for me as I can really have an influence on key decisions on the bike, which I believe will take me to greater levels and hopefully bring success to the team."
Dean also spoke about the importance and focus on the bikes I think this really gives us scope in the next month to consider the best options open to us to decide on the right manufacturer for the 2016 campaign."
Not only does Dean bring the race team his experience but it also means a lot for Silicone Engineering Ltd. Paul Kinsella, Managing Director of Silicone Engineering was delighted at securing Dean's signature. Paul said "We were all excited to hear of Dean's initial interest in in the Silicone Engineering team. His profile in the racing world means our company name and brand will be given maximum exposure which is great for the business, we are all hoping Dean brings us success on the track."
Everyone at Silicone Engineering is looking forward to seeing Dean and the rest of the team in action next year and wish him all the best for the 2016 season.