Electrical enclosures come in all different shapes and formats, from wall mounted units to standard control and junction boxes. Outdoor electronic enclosures are exposed to a number of environmental elements from extreme temperatures, UV, Ozone and general weathering such as heavy rain and wind which is why the sealing material used to protect the inside of enclosures needs to be able to withstand such a variety of stresses.
Enclosures are used for a diverse range of applications, providing control systems for everything from signalling, train power feed and station infrastructure in the rail industry to general outdoor electrical systems. From a health and safety perspective, the components inside electrical enclosures are frequently live, therefore they need protection to prevent electrical shocks and potential failure.
Seal and protect with kSil™ V-0 for electrical enclosures
kSil™ V-0 is a lightweight, closed cell silicone sponge that provides excellent sealing performance due to its low compression set whilst improving fire safety within the enclosure. Capable of achieving a sealing rating of IP67, kSil™V-0 protects vital electrical systems from water and dust ingress that is often experienced in outdoor applications.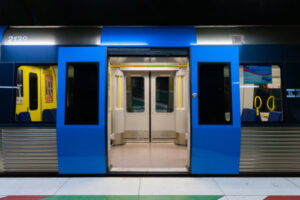 Electrical enclosures often experience temperature fluctuations due to both weather conditions and the heat generated from the power system itself. Therefore the seal used to protect the enclosure needs to be able to withstand such fluctuations. Formulated to withstand extreme temperatures of up to 230°C (446°F) down to -60°C (-76°F) and flame resistant to UL94v-0, kSil™V-0 provides this protection at varying temperature levels which maintains excellent sealing performance, in turn reducing the risk of downtime.
kSil™ V-0 is the ideal, versatile sealing material for all electronic enclosures.
Additional benefits silicone seals and gaskets provide
Silicone solid and sponge/foam seals also have a role in absorbing and blocking sound inside particular applications such as HVAC units.
When it comes to securing HVAC units, a seal can be required to absorb high-frequency vibrations from the fans, reducing the vibration of the facility and also the rattle movement.
Our expertise in solid silicones and sponge/foam silicones allows us to manufacture various seals and gasket solutions for different types of electrical enclosures used in a number of industries such as Rail, Automotive and HVAC.