It was Silicone Engineering at the races this month as Lauren Smith, one of our Lead Commercial Coordinators, got on her running shoes and took part in the Race for Life run.
Lauren took part in the 5k run in Moor Park, Preston to raise money for Cancer Research UK. The event saw over 1500 women and children take part and a collective total of £100,000 was raised which will be donated to help the cancer charity.
Talking about the race, Lauren said "The run wasn't easy but I finished in a good time and managed to raise £250, which I know is going to a fantastic charity." We'd all like to say a big well done to Lauren for her efforts!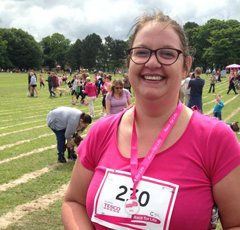 For more information on Race for Life and how to get involved follow the link below.