Advantages of silicone sponge for electric vehicle applications
In recent years, the market for plug-in hybrid and battery-powered electric vehicles has increased at a rapid pace, as more people than ever before recognise the many eco-friendly benefits that come hand in hand with this type of vehicle. The market for hybrid and electric vehicles is set for unprecedented growth in the next decade.
Offering optimum value and performance, electric vehicles are now capable of delivering power, efficiency, and comfort due to advances in battery technology, design materials and manufacturing techniques employed to build electric vehicles.
A material that is generating particular interest in the world of electric motoring is silicone sponge, which can be used in a variety of electric vehicle applications.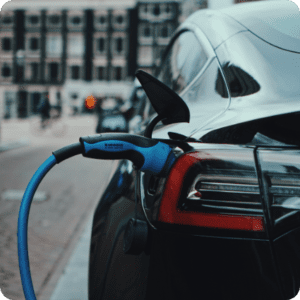 What are the advantages to using silicone sponge for electric vehicle applications?
Silicone sponge can help address many of the challenges that are associated with battery-powered vehicles, helping manufacturers produce electric cars that are efficient, reliable and most importantly, safe.
The material offers a number of benefits that are advantageous in these applications, including:
Provides incredibly low compression set for excellent recovery
Offers thermal stability across a vast temperature range
Provides excellent environmental protection in harsh weather conditions
Resistance to thermal shock, oxidation, moisture, and chemicals
Reduces vibration, squeak and rattle of the battery unit
Excellent electrical insulation
Why is silicone used for electric vehicles?
Silicone is used in a variety of components for electric vehicles due to its beneficial properties, including:
Reduce operating temperatures
Thermal runaway is a potential hazard in battery design. This is where electrolytes within the lithium-ion cell combust and the pressure rapidly increases, creating a sharp and extreme spike in temperature. This spike is enough to cause a fire risk, which is obviously a major concern for electric vehicle manufacturers.
Silicone sponge with its high-temperature resistance and excellent flame resistance is the ideal material to prevent flame propagation should thermal runaway occur.
Reliable performance
Silicone solutions deliver the strength, resistance and durability required for reliable automotive applications. This is one of the main reasons why so many electric manufacturers are using this material.
Environmental sealing performance
As battery units are commonly placed on the underside of vehicles, they have to have excellent sealing performance to ensure water, dust and moisture ingress does not occur.
Silicone sponge provides long-lasting environmental sealing and resistance to prevent battery failure to prevent electrical failure. 
Examples of silicone sponge applications for electric vehicles
Within the design of electric vehicles, silicone is providing engineering and manufacturing solutions for:
Charging units
Battery packs
Battery modules
Wiring
Displays and control units
Silicone Engineering are a leading provider of high-performing silicone rubber solutions fit for use across a wide range of electric vehicle applications. To find out more about the products we offer please get in touch.