Light Rail Power Unit Seal
A CASE STUDY
INDUSTRY: Mass Transit 
Inner city light rail systems make up essential transport services for commuters living in modern urban landscapes.
Light rail design engineers strive to improve upon previous models by learning past lessons and also sourcing innovative materials with the aim to make a superior product.
The process of procuring high-quality materials for key components help to push the Innovation forward with safety being the most important requirement. Due to the operating life span of a light rail system, safety, longevity and future proofing are key aspects of design that comes into consideration when Silicone Engineering is approached to provide assistance.
THE OPPORTUNITY AND CHALLENGE: Providing an EN45545-2 and UL94V0 approved Seal
Recently a company contacted us looking to source a material that could seal the power unit boxes, situated on the rooftop of a light rail train system. Due to stringent industry regulations the material needed to comply with EN45545-2, UL 94V0.
The company submitted design plans to create a custom seal, the requested material for the job needed to have inherent low smoke and low toxicity properties and stand up to infrequent abrasion.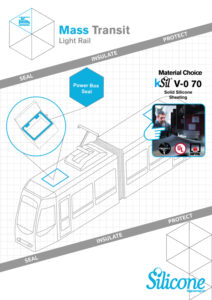 THE SOLUTION: kSil® V-0 70 Solid Sheeting
Our material engineers got to work and offered our best fitting silicone material for the Power Box sealing function.
Due to the mechanics of the box, the material also needed to have strong abrasive resistance. The team decided to choose kSil® V-0 70, as it was equipped to deal with the physical application use, and held the relevant EN45545-2, NFPA-130, UL94-V-0 requested as part of the specification.
Presently the material is currently being used in a long term trial if successful the material will go into the future drawings for the light rail power box system.