Hi-Detectable Sorting
A CASE STUDY
INDUSTRY: Food & Beverage
Contamination is a major concern within industries were human consumption takes place. For these industries such as Food, Beverage and pharmaceuticals, ensuring the contamination risk factor is minimised to its lowest degree is paramount.
Companies operating in these process lead industries contact Silicone Engineering, to help them reduce the risk of rubber sealing particles entering production lines, due to wear and tear and natural degradation from accumulative use of the equipment.
THE OPPORTUNITY AND CHALLENGE: Producing a filter to reduce contamination
Quite recently an established confectionery goods manufacturer contacted Silicone Engineering to help with updating their processing machinery. The company had recently won a new contract to produce and package sweets on behalf of a large confectionery company.
To fulfill the conditions of the new business, the company needed to update its processes to ensure the sweet products are contamination free and safe to consume.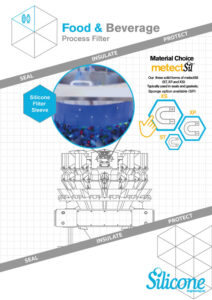 THE SOLUTION:  metectSil™ XS Blue Solid Sheeting
The application entailed using solid silicone sheeting as a filtering flab to aid the distribution of sweets through the processing machine. Our innovation team suggested using metectSil™ XS in accordance with the drawing specifications the company submitted.
With four different variants of the metectSil™ grades available, XS was chosen as it offers the strongest possibility of contamination detection for the magnetic detection systems placed at the end of the processing line.
At this point, the time had become a serious factor as the company had been trying to find a solution for quite a length of time before coming to Silicone Engineering and were nearing there projected manufacturing start time.
The production required the parts very urgently, our manufacturing, scheduling and dispatch teams were able to process the request very quickly and subsequently arranged delivery before the deadline, much to the customer's delight.